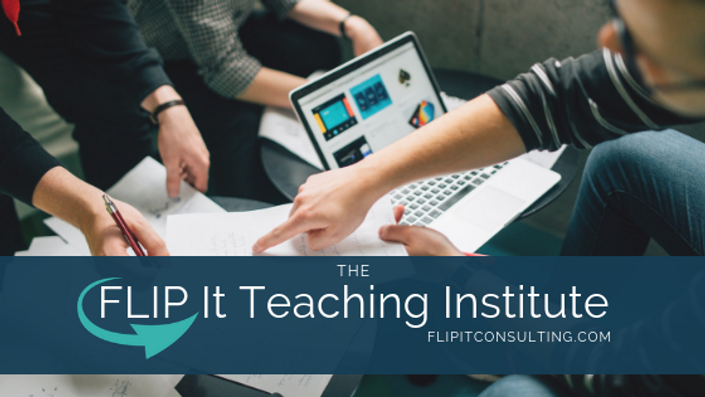 The FLIP It Teaching Institute
Use my 4-step lesson planning process to organize your ideas, increase student engagement, and improve student learning.
Enroll
Create engaging learning experiences one lesson at a time.

In many learning environments, the energy is directed towards the person doing the talking (usually the instructor). When planning a lecture, you might ask, "What am I going to talk about in class today?"
In a flipped learning environment, this structure is reversed. The energy is directed towards the students. Your question becomes, "What are students going to DO in class today?"
This shift changes the whole dynamic of the learning environment and introduces a new set of challenges many students and faculty are unprepared for.
In my work, the flipped classroom isn't just about recording videos of lectures for students to watch before class. There are so many more creative and engaging ways to FLIP it, and that's why in my model, the FLIP means to "Focus on your Learners by Involving them in the Process."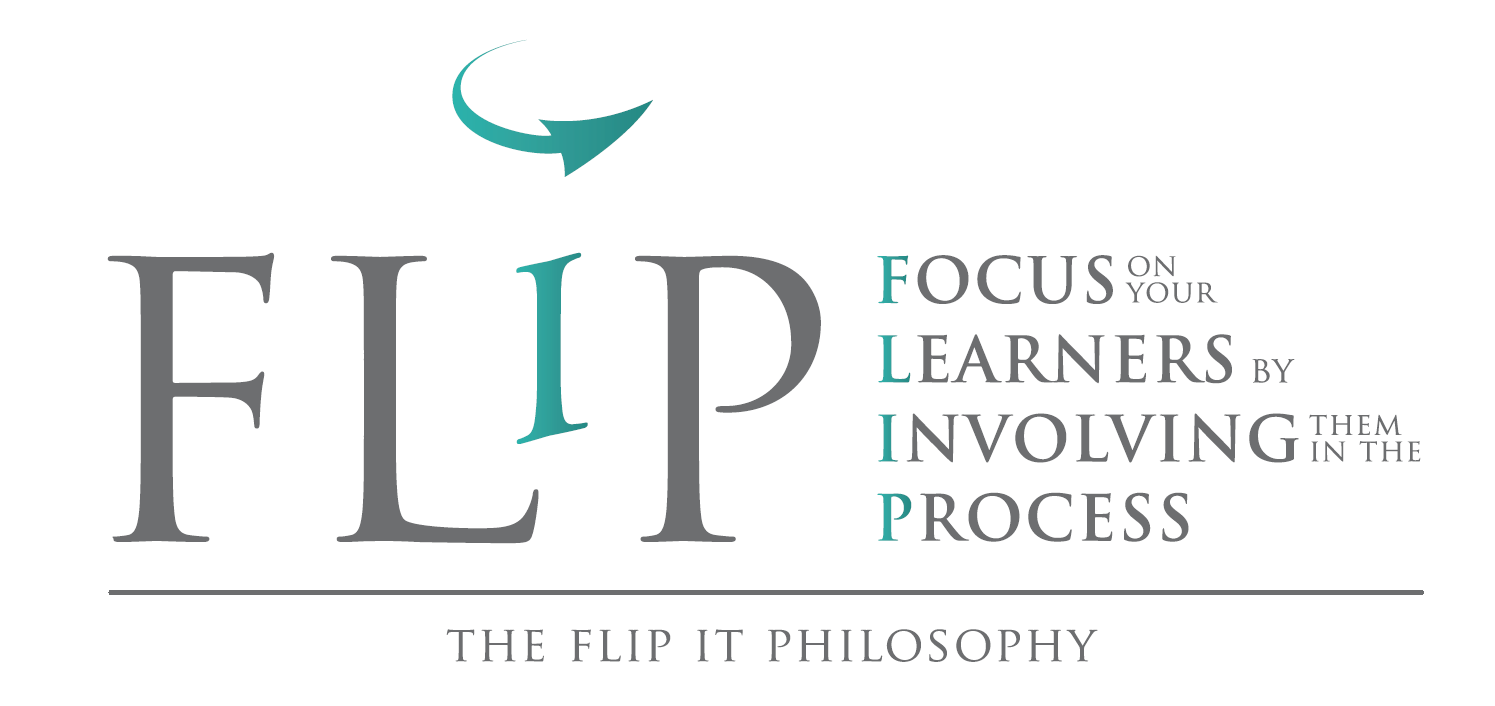 When you FLIP, you intentionally invert the design of a learning environment so students engage in activities, apply concepts, and focus on higher level learning outcomes during class time.
But how do you do it?

How do you organize the flipped classroom so it's not chaotic or out of control? What can you do to motivate students and help them see the value of it? And, where can you find more ideas for teaching strategies to add to your course to keep it new and interesting?
These are the questions I've been examining as I travel throughout the United States leading workshops, speaking at conferences, and listening to faculty share their experiences teaching in the college classroom.
As a result of these conversations and experiences, I created a 4-part framework to help you organize a successful flipped learning experience. And we'll do it by starting with ONE lesson.

In this online institute, we will address the most common challenges, discuss how to avoid "rookie" mistakes, and share strategies that increase student engagement and improve learning in the college classroom.
You can create a new lesson or redesign an existing lesson. By the end of the institute, you will have a framework you can use to FLIP any lesson in any learning environment. The step-by-step process is repeatable and adaptable to any course in any discipline.


You can do this! Let's FLIP it!


Start with one lesson.
Over the past few years, many definitions and interpretations of the flipped classroom have emerged. This has caused frustration and confusion for both faculty and students. It's important to recognize that the flipped classroom is not just about videos. And it's not "all or none."

As you work through the modules, you will:
Expand your definition of the flipped classroom model. You will create a definition that works for you, your students, and your discipline.


Learn where to find "flippable moments" in your course. If something you're doing works as it is, leave it alone. You don't have to redesign every lesson in your course.


Examine strategies to prevent getting overwhelmed. If you try to do too much too fast, you will burn out or give up before you and your students have had a chance to see how valuable and rewarding the FLIP can be.


Implement strategies to address student resistance. Many college students enjoy the flipped classroom environment, but it's different than what they've experienced before. You have to prepare students for their new roles and responsibilities in the flipped classroom. Remember, just as you are learning how to teach in the flipped classroom, your students are learning how to learn in the flipped classroom.


FLIP one lesson. You will create a flipped lesson plan for one of your courses. You can create a new lesson or redesign an existing lesson that isn't working like you want it to. Once you know how to use the 4-step lesson planning framework for one lesson, you will be able to apply it over and over again to any lesson you want to FLIP.
What's the format of the institute?
It's a self-paced online institute featuring 5 video modules (plus 3 bonus modules), worksheets, and assignments.

You can work at your own pace. Complete 1 module a week for 5 weeks or move through the modules faster or slower depending on your schedule.
Even though the institute is self-paced, you are not alone! I am in the discussion forums every day to answer questions, share resources, and offer guidance. I will also send emails to check in, offer encouragement, and share new resources.
Each video module is 25-40 minutes and includes:
A real case study, story, or example.

A worksheet you can complete as you work through the content for that module.

A featured "rookie mistake" so you'll know what to avoid when planning your flipped lesson.

A "pro tip" to help you save time and avoid some of the most common mistakes.

Three flipped teaching strategies you can use in your lessons to increase student engagement and assess learning.

A homework assignment so you can apply what you've learned in the module.

Helpful articles, checklists, and templates related to the topic of the module.

A private discussion forum within each module you can use to ask questions and share ideas with other participants. I'm in the forum every day to answer questions.

A copy of the slides so you can follow along during the video.

A transcript of the video.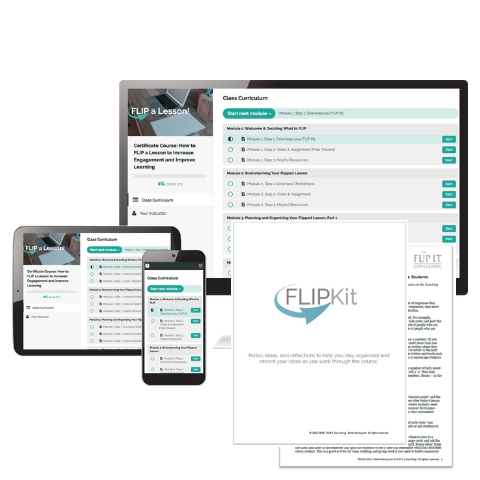 Here's an overview of the 5 modules (+ 3 bonus modules!)
Module 1: Deciding What to FLIP
Why it's important to clarify what the FLIP means in your work and where to find "flippable moments" before you change anything in your course. Not everything should be flipped!
Module 2: Brainstorming Your Flipped Lesson
How to decide what assignments and activities go "in" and "out" of the in-person classroom environment.
Module 3: Planning and Organizing Your Flipped Lesson, Part 1
How to organize your lesson and design effective and engaging pre-class assignments to help students prepare for the higher level learning experiences.
Module 4: Planning and Organizing Your Flipped Lesson, Part 2
How to design engaging in-class learning experiences and support students through the process of moving from taking notes to applying and analyzing course material.
Module 5: Adjusting to Your New Role in the Classroom
How to adjust your role from a lecturer who delivers content to a facilitator who guides students through the process. How to move from the "sage on the stage" to the "guide on the side."
(Bonus!) Module 6: Assessing Learning
How to create an assessment plan for your lesson. How to map learning outcomes, flipped activities, and assessment strategies.
(Bonus!) Module 7: Addressing Student Resistance
How to address student resistance, preparation, and motivation and help students adjust to their new roles and responsibilities.
(Bonus!) Module 8: Managing Your Time, Energy, and Priorities
How to avoid burnout and feeling overwhelmed when you FLIP. How to balance your priorities, focus on what matters, and still create engaging learning experiences.

Final Assignment & Certificate (Optional)
If you want to earn the certificate, you will create and submit a flipped lesson plan for one of your courses. I will personally review the lesson plan, offer advice and ideas, and share recommendations and resources specific to your course to ensure you are ready to FLIP your lesson.
"Great course. I appreciate all of the templates, advice, and excellent resources! And thank you for modeling the flipped approach in your modules." –Summer 2017 Participant
What's included in the institute?
You will receive:
Instant access to all of the content in all 8 modules (5 modules + 3 bonus modules) including videos, worksheets, and templates.
Personal video feedback on your flipped lesson plan (Optional. Available if you are working towards certificate).
Instant access to the digital FLIP Kit which includes guided notes and resources to help you organize your ideas as you work through each module.
Access to the private discussion forums in each module so you can share ideas, ask questions, and connect with other participants.
Lesson planning templates and worksheets you can use to design your lessons and keep track of your ideas.
Example lesson plans from participants who have completed the course. It's helpful to see how other instructors have implementing the FLIP model in their classes.
Lifetime access to all course content (including updated materials added in the future).
Digital certificate of completion (if you choose to submit your lesson plan for review).

What others have said...
"Several of our faculty took this course in preparation for a curriculum revision we are planning. We will be moving to a hybrid model of instruction for our accelerated nursing program. We have all found this information to be extremely helpful. Thank you for putting together such excellent course materials." --Anne Schoening, PhD, RN, CNE, Associate Professor, Faculty Development Coordinator, Creighton University College of Nursing, 2017 & 2018 Participant

"Dr. Honeycutt's FLIP model associates flipping as a philosophy of teaching rather than as a teaching gimmick." –Summer 2016 Participant
"This course has been extremely helpful in helping me to look at the flipped classroom concept more openly. It has provided me with a process, information on carrying out the process and how to evaluate my teaching strategies. The concepts presented related to student learning, can also be used by me (the instructor) as I learn to embrace this new form of teaching. Thank-you for your instruction and all the great resources." --J. Worster, 2018 Participant
"Thank you for this great online course. I've really enjoyed the incremental steps that force me to think about what it takes for the students to achieve the goal of the class. I have been flipping at a pretty intense level for a couple of years and I know this process will help make me more effective and hopefully have less resistant, more satisfied, learners." --E. Steffen, 2018 Participant
"I have used so much from the teaching institute I took this summer from you. I have managed to FLIP 3 courses using pre-class learning activities and focusing activities at the beginning of my class and for the most part, my students have been better prepared for class. One of the really helpful things from the teaching institute was to have to create the lesson which included the pre-class activity, the focusing activity and the in-class activity. Doing that and getting very helpful feedback from you allowed me to then create other lessons using that one as the model. --Dr. Shar Georgesen, PhD, MSN, RN, Professor, Nylen School of Nursing, Morningside College, 2018 Participant

"I have been using various constructivist methodologies for nearly two decades, and while I have grown to be very, very comfortable with the "loose" structures that characterize this approach, I have struggled around how to create a coherent architecture for a class. Dr. Honeycutt's model has solved this problem for me. This model has given me the framework I needed to build the logic model for any class. Even more, it provides a great framework for designing entire curricula. I have been using the framework consistently with great results. Needless to say, it was one of those pivotal moments for me, providing tools that will influence my career for many years to come." -David S. Bright, Ph.D., Professor of Organizational Behavior and Organization Development, Raj Soin College of Business, Wright State University

"This course has changed my perspective on flipping and how to be intentional when doing it. Love all the excellent resources!" --Faculty Member, Summer 2017
Your Instructor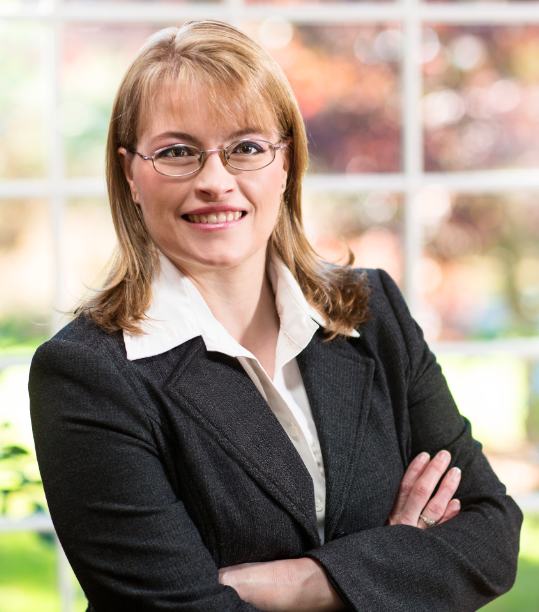 It's challenging to come up with new, creative ways to engage your students. Every day, when you arrive (or log in) to your classroom, you are responsible for creating a space for students to learn from you and from each other.
It's not an easy task! But, you can do it! I can help.


Hi, I'm Barbi, and I am here to help you design engaging lessons, teach with confidence, and connect with your students. I offer the structure, strategies, and support you need to create meaningful and engaging learning experiences.
Throughout the past 18 years, I have facilitated thousands of professional development events for educators throughout the world. The resources I provide are grounded in theory, informed by research, and designed for practical application.
Wherever you are in your journey, my goal is to support you in your pursuit of teaching excellence. When you are successful, your students will be successful. And that's why I dedicate my energy to supporting you!
Frequently Asked Questions
How long will it take me to complete the institute?
I recommend allowing yourself 1 hour/week for the 5 weeks (total = 5 hours). You can move faster/slower depending on your schedule. If you are earning the certificate, add 1-2 hours during the last week of the institute to complete your lesson plan, review it with me, and revise as needed (total = 6-8 hours).
When does the institute start and finish?
You decide when you start and finish! When you enroll, you get immediate access to all content. You can move at your own pace and work through the material when it works best for your schedule.
How do I earn my certificate?
Once you complete the 5 modules, you will submit a draft of your lesson plan to me for review. I will send you a personalized video review of your lesson and offer recommendations, advice, and additional resources specific to your lesson and your course. (The certificate is optional. If you don't want to complete the certificate, that's okay. You still have the same access to all of the course content, but without the personal feedback).
How long do I have access to the materials?
You have lifetime access to all materials. As long as the institute exists, you will be able to access the content (including updated content added in the future).
What if I am unhappy with the institute?
I want you to be satisfied with your purchase. However, if the institute is not helping you meet your goals, you are eligible to receive a 100% refund. In the event that you decide your purchase was not the right decision, within 30 days of purchase, contact me to request your refund. See the complete refund policy for details.
How can this institute be used on my campus?
You can include this online institute as part of any professional development program on your campus. Campus packages and groups discounts are available. Some campuses send a group of faculty to participate in the Institute with other faculty from throughout the world. Other campuses want a separate online space just for their faculty so they can discuss campus or departmental specific topics within the context of the Institute. I will design it in any way that helps you meet your goals. I also offer the institute as an in-person half-day or full-day event held on your campus. Contact me to learn more about any of these options.
What methods of payment are accepted?
All major credit cards are accepted. Enroll in the course by clicking on any of the "enroll" buttons throughout the website. If your organization requires a purchase order or check to submit payment, send me an email and we'll start working on the process:
[email protected]